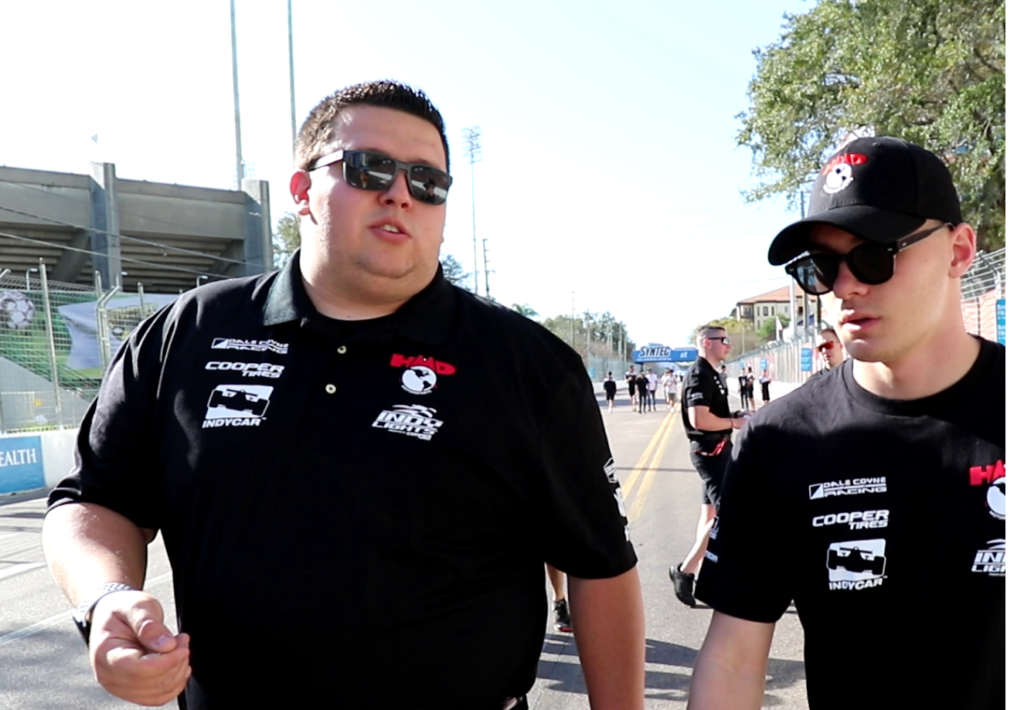 We had the opportunity to speak to Linus Lundqvist and HMD Motorsports race engineer Nathan Toney at the Firestone Grand Prix indy race in Monterey, California last month. Racing is essentially product development on steroids.
It's all about making sure that all the components of a race car and the driver come together to deliver 100% performance when it matters.
Pleased to meet you Nathan. And congrats on the Indy Lights title, which marks HMD motorsports first big championship win (and surely not the last)!
Thanks, it's been an amazing season!
First question: How do you as a race engineer prepare for a race weekend?
There's plenty of preparation work happening before a race weekend begins. The main thing is to come with a setup prepared for the car before the race weekend starts. To do that, we look and learn from previous events. For example, we review race videos to learn how the car has handled. Together with the driver, we look at the number of tires given for the race weekend and create a run plan on how to use them over the weekend. Finally, I also look at fuel consumption.
What about after a race, what sources of information do you use and lean on in order to make decisions on how to adjust the setup?
That's an interesting question. There are several sources of input to consider. The telemetry from the car, driver feedback (how the car felt and handled) and environmental factors such as temperature and weather forecast.

Here's where the importance of good collaboration with the driver really comes in. If Linus says "in this way we'll be faster", I'd trust him on that and we would set up the car that way. At the same time, if I find that we can be faster by adjusting the aero (aerodynamics), Linus would trust me on that.
What is the most challenging aspect of being a race engineer?
By far, to always be at 100%. If your car is at 98%, in the fierce competition that makes up top level racing, 98% just won't do. To constantly deliver above 98%, under the constant changing conditions that make up racing, that's the biggest challenge!
So, let's touch on that a bit. What if we discover during a race weekend that we did not get 100% performance, that we only got 98%, how do you problem-solve that?
Actually, one such situation occurred during our last race weekend which had two races, one on Saturday and one on Sunday. After a good qualifying, we weren't able to keep up a good race pace. Now, even if it is clear from the driver how the car handled/didn't handle, it can be extremely difficult to nail down exactly what caused that problem. Yet you must do something to make sure the car performs better in just a few hours. In this specific scenario, what we did was to look at the setup on an earlier partly similar track, and use this as our baseline for the setup the day after. This worked and the car performed a lot better on the Sunday.
What about problem solving over the course of the race season, how do you work with that?
There was one example of that from this race season. Before the season began, Linus and I sat down and talked through what improvements we wanted to make, comparing this race season with the one the year before. One of those things was: if we had a bad race, the result would not be terrible. Last year, when our car didn't perform, we could dip down to 8th position in the field. This year, we said to ourselves, "if we had a bad weekend, it wouldn't be terrible." And that has worked.
This year if we had a bad weekend, we could finish 5th at worst, but never 8th. All race teams have one or two of those over the course of a race season.
Finally, what advice would you give a young race engineer?
Practice solving problems! Whether you problem-solve on LEGO or the performance of a car ,c onstant practice of problem solving in multiple domains makes perfect. All those lessons learned add up. Get all the experience you can!
The second thing: Keep a positive attitude. Have fun! It rubs off!
Thanks Nathan for taking the time for this interview.