6. Keep it alive and evolving
Why it matters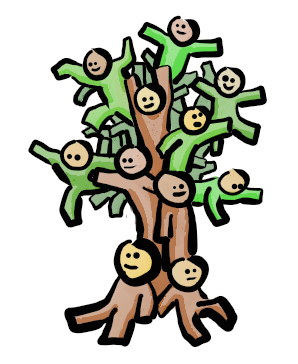 You can never really capture and describe a culture, nor ensure the creation of a specific culture, or protect a current culture when growing or merging with another organisation. Culture can't be standardised. You will have subcultures that change and evolve over time through formal and informal networks.
Embrace this. Leverage the fact that culture does evolve over time. It is however possible to enhance and enforce positive important aspects and dampen unwanted ones. We do this through building shared identities, making our tribe real, intentional organisational design and by modelling the culture we want to see.
But we need to amplify this by continuously having a dialog about who we are and who we want to be. Regularly explore and iterate on our expectations we have on each other.
And finally, we need to make it easy for culture to grow, spread and evolve.
How it works
Practice 1: Co-create culture decks
Don't isolate the creation of culture and "who we are" pamphlets to HR. Instead crowdsource the content. Go on a workshop tour where you harvest stories and values, and examples of how these values manifest themselves. Do interviews. Take photos of the people and the teams.
Include important events told through the voice of those involved. Tell the story of your past, your present and your future. About who you are and who you want to be.
Then combine and aggregate it into a beautiful visual culture deck.
The culture deck is something you should feel proud to show to others. A visual aid for you to tell others about who you are and what you stand for.
Great inspirational examples are Zappos Culture Book, Valve's Handbook for New Employees and The Craft Beer Revolution Manifesto.
Excerpt from Zappo's Culture Deck 2019
Practice 2: Revisit and restate company values
Don't allow your company's value words and statements to become old, stale and outdated. Every few years, revisit them. Maybe some of them need to be revitalized and substituted. Remove old examples, stories and photos with new ones.
One great example of such an effort is the Spotify Passion Tour a few years ago. In the blog "The Passion Tour: workshopping values the Spotify way" they tell their story.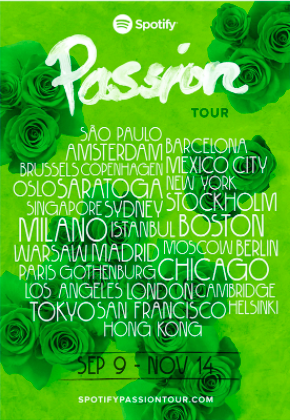 We created posters with tour dates, a tour website, pre-tour videos, T-shirts and merch and even had the employees get tickets which they handed in to enter the workshop. (---)

We had 27 offices around the globe and many of those (especially those in the more remote locations) had asked for a clearer direction, for one vision, one mission, one company and one culture. So we started the tour from the smallest office in the furthest corners of the world, and worked our way inwards.
Practice 3: Explore and iterate expectation on roles
Our expectations we have on each other in our different roles changes over time as the context evolves and as the constellation of people changes. The bullets one can read in the job description is one thing, what we actually do expect from each other in terms of behaviours and responses when we collaborate and communicate is many times something very different.
Once in a while (maybe once a year), revisit and explore the expectations we have on each other in our context and in our tribe with our set of people. Conduct a Role Expectation Mapping exercise. It starts with exploring and surveying what expectations people have on the different roles. Then the people having that role digests that input and makes it their own. They formulate with their own words in their own language what they allow others to hold them accountable for. This is followed by feedback and discussions. And then the results are presented and communicated to everyone.
Such an exercise is tremendously powerful since it reveals gaps, clarifies misunderstanding and invites everyone to take responsibility for their own role and how all roles need to collaborate to reach the shared outcome.
Practice 4: Clarify popular words and phrases
Each organisation has a list of buzzwords and their own jargon. This is part of the culture. But it's really important that we have a shared and clear understanding of what those popular words and phrases mean. If we don't, we instead introduce ambiguity and create confusion.
Examples:

"We really need to focus on this!" – What does that mean? How should we focus? Is this number one priority now and we should replan? Work overtime?

"We need to align on X!" – Does this mean that we collaboratively discuss until we agree? Or that we meet and negotiate and resolve conflicting priorities? Or that we all need to agree with person Y?

"That team has challenges. They need help to become high-performing!" – What does it mean to be high-performing? How can you observe if a team is doing well and when it's not? Exactly what expectations are put on members of a team?

"We believe in autonomous teams!" – How do we define autonomy? To what extent do they have decision-mandate? What lies within their sphere of ownership and where does it end?
So, make sure to clarify and explain exactly what your popular buzzwords mean so that they can be powerful tools for communication and collaboration, instead of causing confusion and ambiguity.
Practice 5: Make it easy for culture to spread
Make it easy for people and teams to communicate. Culture spreads whenever we meet and interact, when we discuss and collaborate.
Offer clear guidelines on when and how to use mail, the chat (such as slack), the internal wiki, jira, documents in shared repository, etc.
But make it easy for people to communicate and collaborate! Don't restrict creation of slack channels to a few admins. Don't have an approval process for creating new pages on the wiki or intranet. Don't restrict admin rights so that it becomes difficult to configure the tools to the needs of the people and teams using the tool. Choose tools that are inclusive and don't require central administration.
Practice 6: Encourage sharing of knowledge and stories
Encourage sharing. Make it easy, fun and appreciated to dedicate time to share knowledge to colleagues.
Encourage writing articles for the internal blog platform. Make it easy to order food for Lunch'n'Learns. Make it easy to expense the sandwiches for the breakfast seminar. Create a simple process for self-ordering of books for book clubs. Teach people on how to do educational videos. Offer training on how to become a better teacher.
Allow those who want to share, to share – without your permission. Help those you think have valuable knowledge and stories to share by encouraging them and helping them to prioritize time for sharing.
References
Valve's Handbook for New Employees
The Craft Beer Revolution Manifesto
The Passion Tour: workshopping values the Spotify way
Role Expectation Mapping (Facilitation guide)