3. Make it real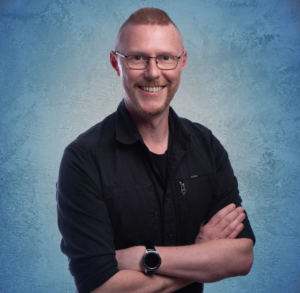 Why it matters
A team is real. They frequently gather to plan, coordinate and collaborate. They create and build tangible things that you can see or use.
Seth Godin writes in his book "Tribes: We Need You to Lead Us" from 2008:
"A tribe is a group of people connected to one another, connected to a leader, and connected to an idea. "

Seth Godin, 2008, Tribes
Organizational units beyond the team quickly become abstract. You need to make them real. If you don't bring your tribe, department or value stream to life, it will merely be a fading memory of a PowerPoint slide.

How it works
Practice 1: Create opportunities to gather and to socialize
It's when we gather and meet that the culture of the tribe comes to life. This is when we build relationships beyond the team, share learning, ideas and knowledge around óur shared mission and purpose.
Furthermore – these occasions when the tribe comes to life, that's where you as a leader can have an impact. Where you model the culture you want to see. Where you can offer context, bring clarity on the vision and unite the tribe around shared goals.
Grab any opportunities that allow for the abstract entity tribe to come to life. This could be All-Hands Meetings, Celebrations, Hack Days, Demos, Internal Open Space conferences, Breakfast Seminars, Open Mic Wednesday Lunch, Book Clubs or Friday Game Quiz. To list some examples of inspiration.
Practice 2: Celebrate together
Celebrate together. Create memories and shape your future stories.
Don't only celebrate achievements and met business goals. Results come and go (or don't) despite our best efforts and shortcomings.
Celebrate new hires, the launch of new teams. Celebrate pride week with a colour scheme, the arrival of summer or the first snow.
But also celebrate learning. Share stories of failure and what you learned from them. Toast to experiments, whatever the result turned out to be. Praise the incident in production because it reminds us that we have the courage to move fast, and of our ability to quickly recover from mistakes.
Practice 3: Establish traditions
When you gather and meet as a tribe or the whole organization, don't only address budget, delivery and updates. Dedicate time for ceremonies that glue people together. Together, create habits and traditions that will be part of your story and culture.
Examples of traditions during meetings: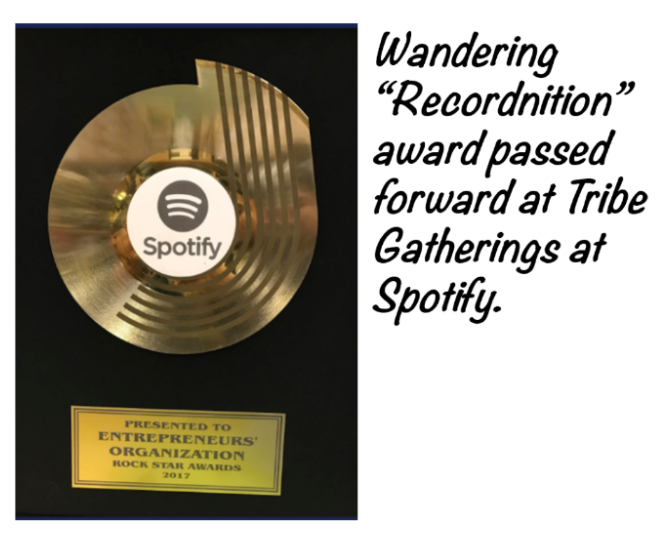 Wandering Kudos Reward. The owner of the reward gives it to someone else together with a rationale. The reason could be as thanks for a great effort, appreciation for a great pairing session, praisal for a contribution or simply because he or she deserves some love and recognition. The new owner of the reward gives it to someone else next time.
Quote of the week. Harvested from Slack, Email or another internal source.
End every meeting with a High-Five.
Single-clap applaud when you make a decision.
Examples of traditions outside of meetings:
Open team "fika". On Wednesdays, teams take turns inviting others to chill and hangout with them.
Band T-Shirt Fridays. Wear your favourite band T-Shirt.
Tribe Hack Day. First Thursday every month is a department wide hack day. Ends with a demo in the late afternoon.
Practice 4: Design your space to communicate your culture
Your interior design communicates your culture and identity. Your office space sets a tone.
Is it clean and tidy, or can you find hammocks and fuzzball games? Are the walls covered with corporate value statements or with artwork from the teams? Are there warning signs or diminishing instructions in the kitchen, or colorful signs that make it easy and inviting to do the right thing?
If you delegate the design of your space to someone external you lose control over what message that space communicates and the culture it fosters.
Instead, make sure you collaborate closely with whomever provides the design. Help them understand your culture and your identity.
New employees and visitors are going to interpret every color and painting and the office layout, and infer meaning from it. Especially when there is a mismatch between what you hear and what you see. Have you been told about the importance of self-organized teams but you're not allowed to move the furniture around. Is teamwork emphasized during onboarding but the office is designed as an activity based workspace with a clean desk policy? Is one of the company values trust, but the cabin to the ping pong rackets locked? Is another value collaboration, but there's not a single whiteboard in sight?
Make your culture and values observable through the design of your space.
Practice 5: Hire your own chef
This might seem like a weirdly specific practice. But your kitchen and food lounge is one of the most important places for social interactions.
Kitchen at Casumo, Malta
Build on that. Hire your own chef and serve food. Make it even more attractive and easy to socialize, share stories, spread ideas and to build relations with new friends.
Another example is from the company Ongame. They serve breakfast every morning to everyone in the canteen to create a space for cross-department interactions. This became a place where you could find and talk to anyone, or just have a nice time with colleagues.
Help culture spread. Serve food.
References
Tribes: We Need You to Lead Us, Godin Seth, 2008