Building the system/environment that produces results
The practice library is a system approach to leading. It recognizes that many factors depend on each other, and should sometimes be moved together. It answers the question, "how do I lead through others?"
All practices in the practice library have been field tested in fast growing Agile companies.
The material included honors our Active Agile Mindset.
A good start – not everything you possibly need to know
The goal is not to share everything you could possibly need to know, rather we point at the ones that will give you a good start. Some of them are good habits (keep them up!) while others are system level choices which, if made right, unlock energy and potential; and if made wrong, or too late, will drive heavy growth pains.
Be Agile, don't do Agile
Think of processes as the icing on the cake. They are not the essentials of the cake. Process is a function of your system. Process will (and should) change continuously as the company evolves. The leader who has the foresight to think ahead designs the system such that processes can be light weight and easily changed, as summed up in the Agile manifesto, "People over process".
Reading the library: leadership qualities, mindsets and practices
At the heart, you find three central leadership qualities,
Clarify direction
Grow the environment that produces the results
Lead the spirit


In the inner circle, we share a set of useful mindsets. They are useful in many practice areas, not just one.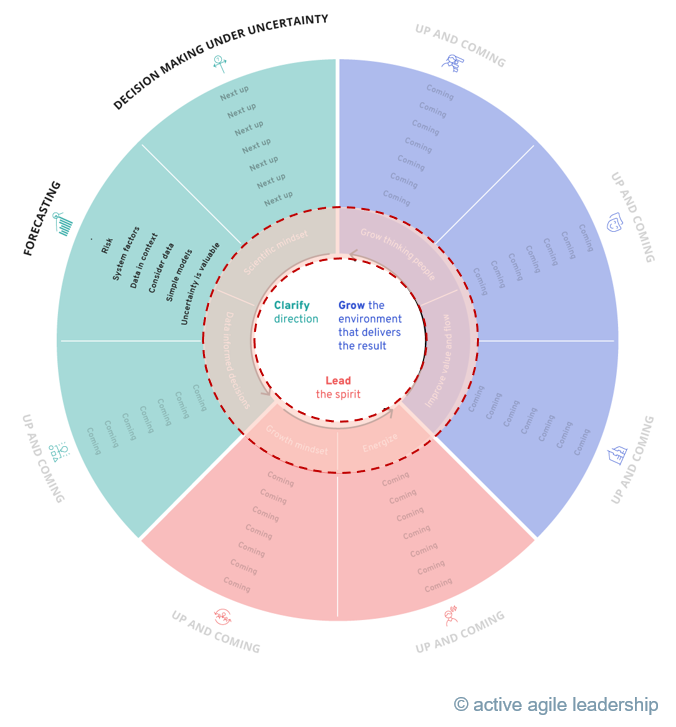 In each pie section, you have the practices. These have been compiled by our content champions; we simply picked the brains of the best people in the field we could find.
Our challenge to you – suggest the better option (over finding the fault)
When reading this, you are probably going to spot things we didn't include (that is key to you). When putting this together, the hardest choices were not what to include but what to leave out. So, before pointing out the fault, our challenge to you is this: suggest the better option! Which practice would you replace and why? We are humble enough to recognize that we don't know it all.
If your suggestion turns out to be a better option after review - it beats the one already mentioned, you will earn your mark as a distinguished contributor for that practice..
Feel free to share
We hope you find value from this. Feel free to share, as long as you credit or link back to us.

Back to the practice library here.